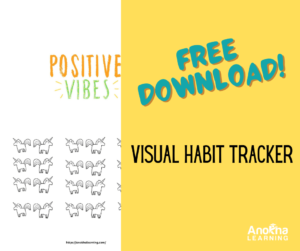 We all know the habits that contribute to our overall wellbeing, things like eating healthily, drinking enough water, having sufficient sleep, taking time out to relax. In other words, we know how to fill our well-being wells. But sometimes we let our good habits slide. Unfortunately, this is more likely to happen in times of stress, which is exactly when we could do with the boost from the tools that enhance our wellbeing. Let's list five self-care habits that you might like to revisit, or try for the first time to fill your well:
5 Self-Care Practices
Go on a mindful walk and notice your surroundings using your five senses
Perform an Act of Kindness for someone else
Try gratitude journaling – write 5 things you are grateful for every evening
Unplug from devices one hour before bed
Listen to a body scan meditation from Anokha Learning course author Vivianne Moloney
Download our free habit trackers and pick a self-care habit that you intend to focus on. This could be anything from drinking a glass of water to getting out for a walk in nature. We have created these visual trackers to make the process fun and to encourage you to take action to move the needle towards well-being.
How to Use Your Wellbeing Habit Tracker
Print out the tracker you like the best.
Display it somewhere prominent as a reminder of your commitment to your own self-care.
Colour one shape each time you engage in your chosen self-care practice.
The aim is to commit to a more consistent self-care practice. However, this is not about beating yourself up if you don't stick to your new habit every day! By using a visual tracker, you will begin to see that taking one little action regularly builds up over time.
If you get a chance to use our habit trackers at home, at work, or in the classroom, we would love to see a photo of your completed masterpieces, so don't be shy, send us a photo!