Why Kids need Coping Tools
Coping strategies and self-regulation skills are not intuitive. Just like learning the alphabet, children need to be taught these strategies. However not every coping strategy works for every child.  Your aim should be to support children by introducing them to multiple coping strategies so that they can identify the tool that works best for them in a given situation. For example, mindful movement might work really well for a child, but it isn't always practical in the school setting if they are in the middle of a maths lesson! When you teach children a range of coping skills they have these at their disposal when the need arises. Teaching children how to self-regulate in times of stress equips them with vital life skills. It empowers them as it helps them to recognise that there are strategies they can use to manage everyday stresses.
Here is a list of five coping skills activities that you may like to try out at home or at school:
1. Breathing Techniques
Did you know that when you are using breathing techniques, it's really important to focus on a long, slow exhale as this is the one that calms you? Here is a link to a simple, fun, and engaging breathing technique from Orlaith O'Sullivan called the "starfish practice".
2. Teach Children about Neuroscience
Equipping children with a simple explanation about neuroscience and how stress and anxiety can impact the big brain and little brain can give them a sense of ownership over their feelings and emotions.  In this short clip, Dr. Dan Siegel teaches a visual model of the brain that you can use to provide a child-friendly, concrete explanation.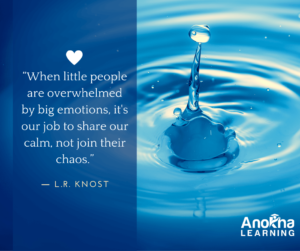 3. Mindful Meditation
There are lots of mindful meditations targeted at helping children to feel calmer and more relaxed. Two resources that have been recommended by participants time and time again are GoNoodle and Cosmic Kids.
4. Growth Mindset
Promoting a growth mindset is a very valuable coping skill. It teaches children that even though they may be facing a setback, they can master things that they find difficult right now if they use the right tools. Make sure to download our free growth mindset posters and inspirational bookmarks as visual reminders to refer to if you haven't already done so!
5. Calm down Kit
This video helps children to understand why they sometimes struggle with containing their emotions. In response, you can help them to manage their emotions by giving them access to a calm down kit, including items such as bubbles, fidgets, weighted toys or cushions, feelings wheels, etc.
We hope you found this post helpful and we'd love it if you'd share it with a friend so that these coping skills can help as many children as possible.
Related Post: If you enjoyed this post, you may also like to read our related post that explains how to create an emotional toolkit for children.